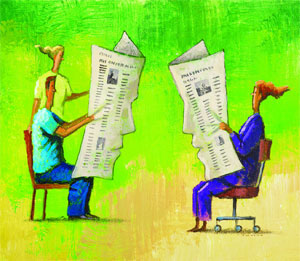 Original Serials, A Novel Way to Engage Your Community
Breakfast Serials creates serial literature written and illustrated for a general audience. Serials tell a story over a period of time in successive parts, a format ideal for sharing. During the pauses and breaks between installments, lively conversations will occur.
Each installment takes less than 5 minutes to read. Story length averages 16 chapters
To accelerate our audience-building capability, we collaborate with daily and weekly newspapers. We do so because newspapers are instantly accessible, and on a typical weekday 52% of adults read a newspaper. Those same adults, on average, spend 26 minutes reading 58% of a print newspaper and 3.5 minutes per visit on a newspaper's website.
Breakfast Serials' distinctive audience emerges from the large distributed efforts of more than 699 newspapers nationwide. Since 1996 we've grown by over 900%, proving Breakfast Serials' value to newspaper subscribers.